OXI MAKES YOUR LIGHTING COMMUNICATE SIMPLY
What is Oxi technology?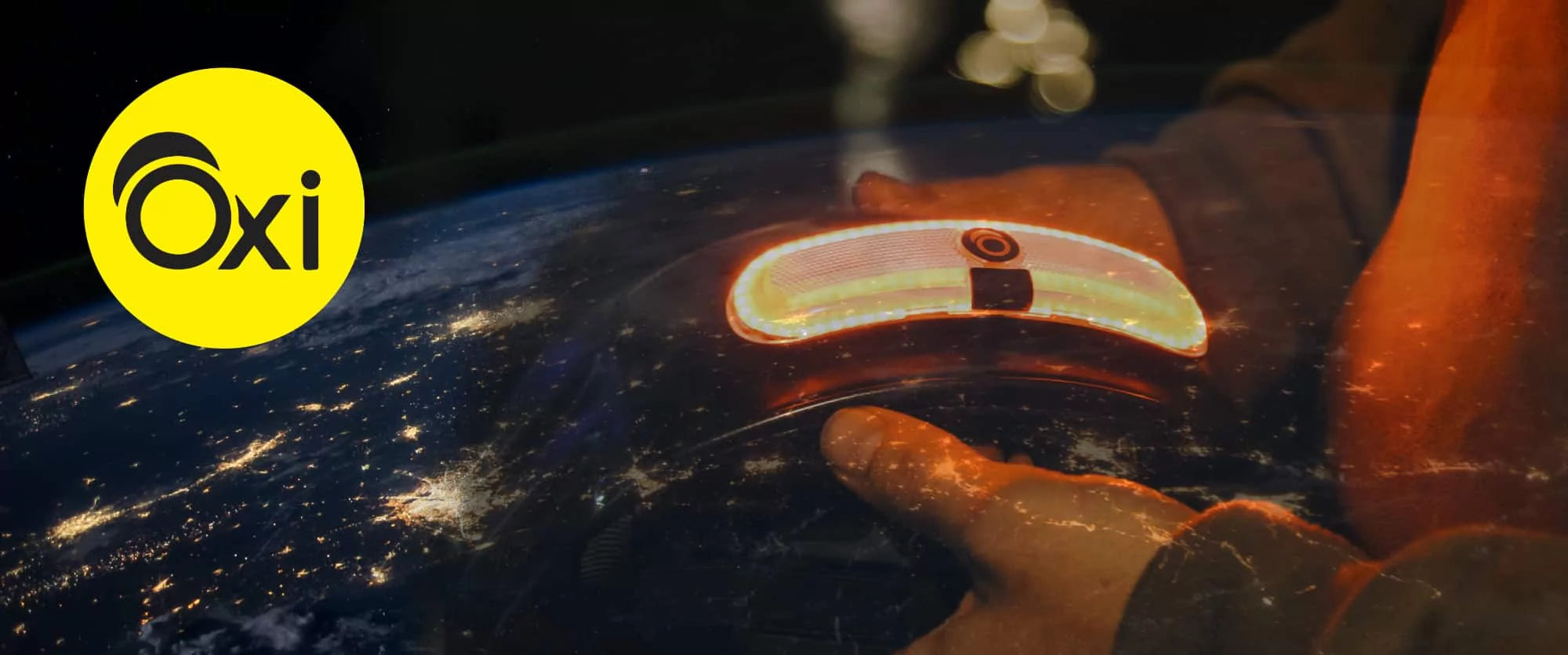 With Oxi, Overade is launching a network technology intended to make products interact with each other via a wireless connection .
For greater ease of use and greater reliability , Overade has developed its own "Oxi" communication technology which does not rely on the Bluetooth protocol or WIFI. No application needs to be installed on your smartphone and you are not monitored or geolocated.
La gamme Oxi comporte actuellement quatre dispositifs interopérables : 
| | |
| --- | --- |
| | , un éclairage rouge et blanc |
| | , un éclairage rouge avec fonction clignotant |
| | , un détecteur de freinage à placer sur le levier de frein |
| | , une télécommande pour piloter les éclairages avec fonction clignotant |
Ces dispositifs nécessitent juste d'être "couplés" entre eux via une opération dite "d'appairage" à l'image de ce que vous faites régulièrement entre votre smartphone et une enceinte Bluetooth ou des écouteurs sans fil.
Start with the Oxi packs…
To get started in the Oxi world, we have designed immediately usable starter packs that you can upgrade according to your security needs:
| | | | | |
| --- | --- | --- | --- | --- |
| | OxiLum | OxiBrake Starter | OxiTurn Starter | OxiTurn Deluxe |
| | | | | |
| Modes lumineux Rouge | 5 | 5 | 5 | 5 |
| Modes lumineux Blanc | 3 | 3 | - | - |
| Autonomie maximum | 20H | 20H | 20H | 20H |
| Puissance maximum | 100 Lumens | 100 Lumens | 90 Lumens | 90 Lumens |
| Fonction feu stop | NON INCLUS* | OUI | NON INCLUS* | OUI |
| Fonction clignotants | NON | NON | OUI | OUI |
| Fonction appel de phare | NON INCLUS* | OUI | NON | NON |
| Support casque | INCLUS | INCLUS | INCLUS | INCLUS |
| Fixation vélo /trottinette | NON INCLUS** | NON INCLUS** | NON INCLUS** | NON INCLUS** |
| Prix (TTC) | 49€ | 79€ | 59€ | 89€ |
| | ACHETER | ACHETER | ACHETER | ACHETER |
NON INCLUS* : Ajouter un OxiBrake pour bénéficier de la fonction
NON INCLUS** : Kit d'attaches universel vendu séparément
OxiLum: A powerful light with 8 light modes (5 red rear lights and 3 white front lights)
OxiBrake Starter - Brake warning: Finally a simple and effective braking detector which is installed on the brake handle of your bike or scooter to alert users following you thanks to powerful lighting (OxiLum lighting)
OxiTurn Starter - Lighting with flashing function controlled by remote control: Red lighting with orange direction indicators activated by means of a remote control attached to the handlebars of your electric bike or scooter.
OxiTurn Deluxe: A complete starter pack to warn users of your changes of direction and braking.
Direction indicator and bicycle braking warning: play on complementarity
Notre pack OxiTurn Deluxe est le pack de démarrage le plus complet.
Déballez et installez votre télécommande (OxiMote), votre avertisseur de freinage (OxiBrake) et votre lumière connectée (OxiTurn). Les produits étant déjà appairés en usine, vous voilà prêt pour avertir les autres usagers de la route que vous allez tourner
à la prochaine intersection. Quelques instants après, lorsque vous allez commencer à freiner, le feu rouge stop
de votre éclairage va s'allumer pour prévenir les usagers qui vous suivent.
Grâce à la technologie Oxi vous pouvez ajouter autant d'éclairages clignotants (OxiTurn) ou de lumière de positionnement (OxiLum) que vous le souhaitez et ainsi les activer au moyen de votre télécommande OxiMote et l'avertisseur de freinage OxiBrake.
Enrich your Oxi packs to design YOUR product combination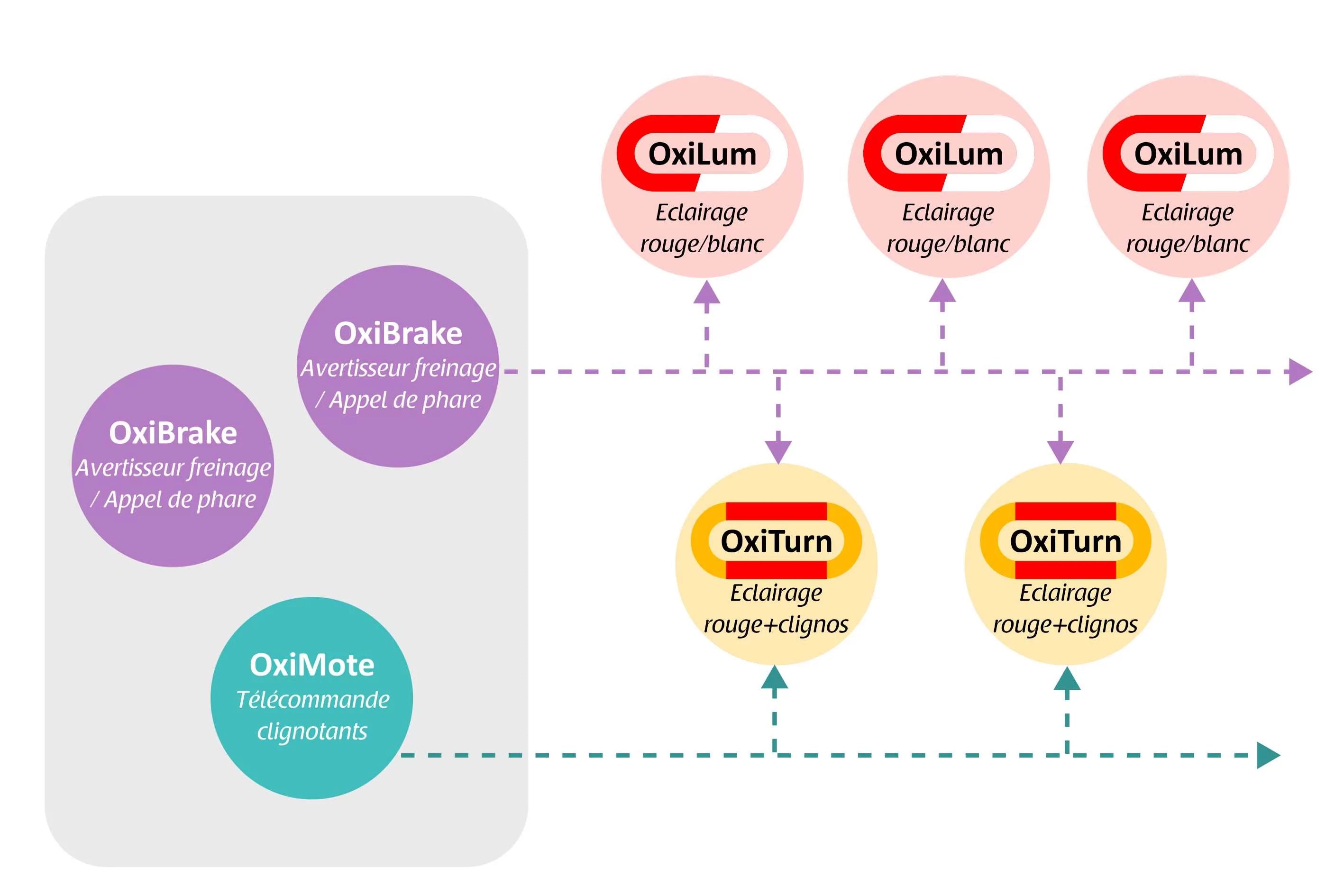 Simple and scalable , Oxi technology makes bicycle and electric scooter accessories interoperable. You can use as many lights as you want and pair them with the remote controls and brake warning devices of your choice.
This configurator will help you choose the combination of Oxi products that meets your needs: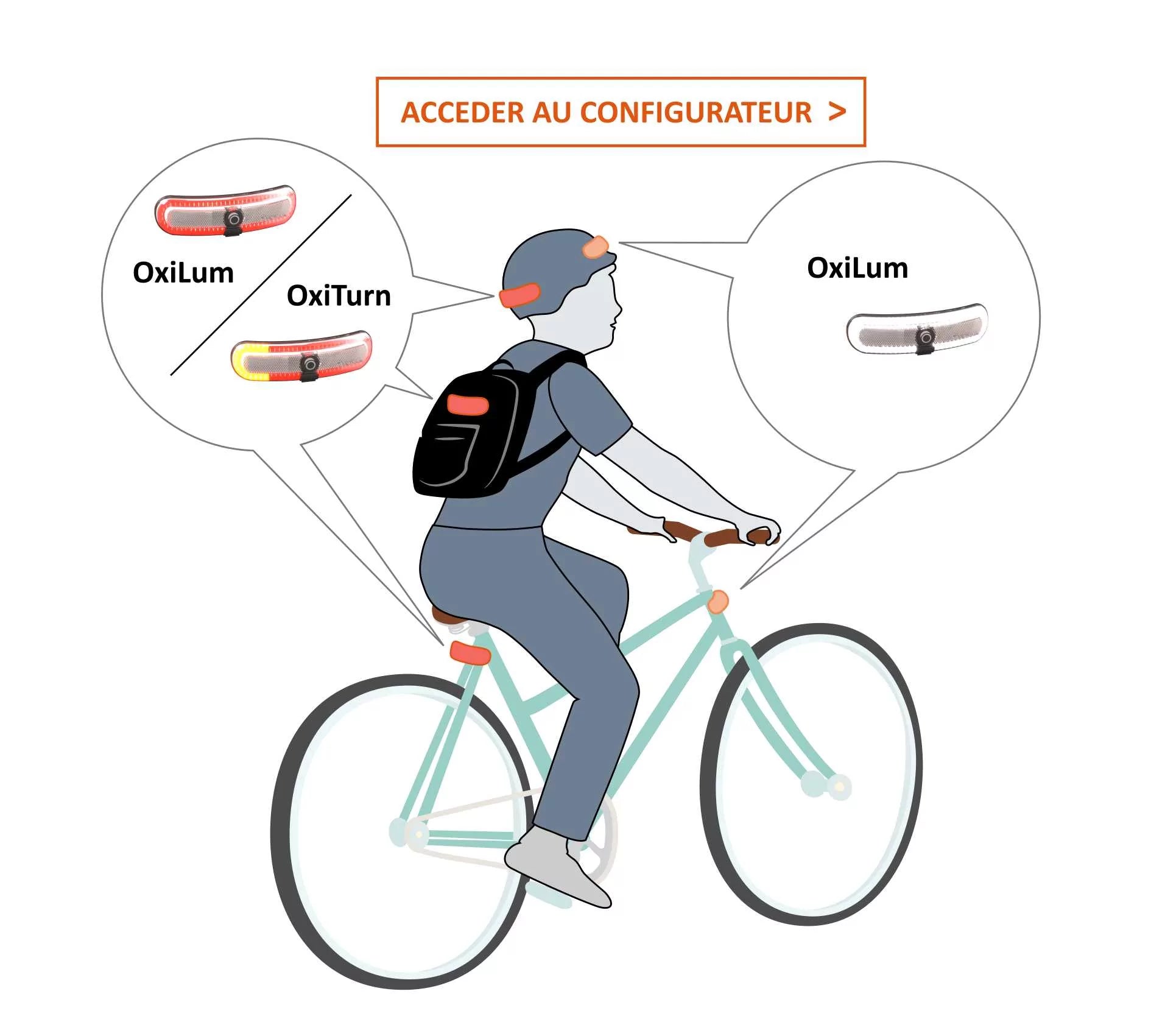 Multiply the lighting to remain visible in all configurations
Thanks to Oxi technology you can add up to 50 OxiLum lights coupled to a single brake lever for example. Enough to make it clear to the vehicle that is following you a little too closely that you are braking!
But before reaching 50 lights you will already be satisfied with being able to use two: a light on the back of your bike helmet and another light on the back of the luggage rack of your bike for example.
The possibility of adding additional lighting is also interesting when using cargo bikes, longtail bikes or even delivery tricycles. The unusual volume of these machines requires additional lighting in order to remain as visible as possible.
Install your lights exactly where you need them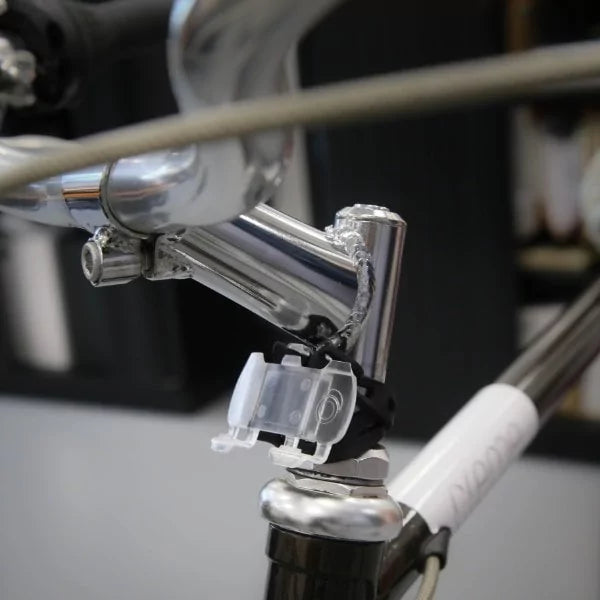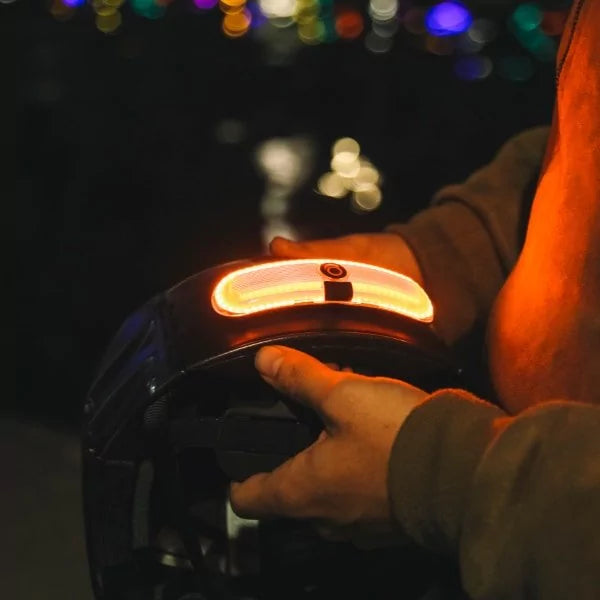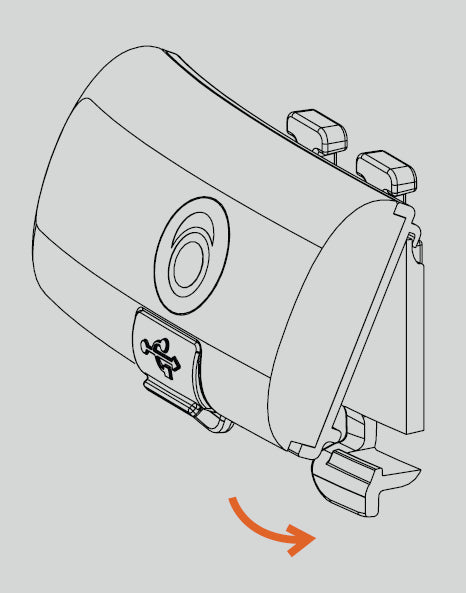 All our flashing (OxiTurn) or positioning (OxiLum) lights are delivered with a patented attachment including a metal plate intended to be stuck on urban bicycle helmets . This fixing, both mechanical and magnetic, effectively maintains the lighting on the helmet while allowing it to be easily removed to recharge it.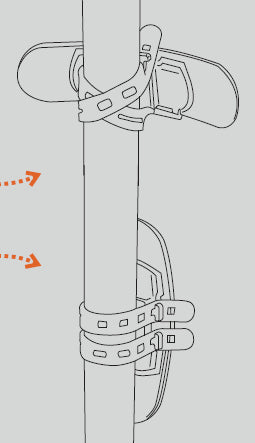 And as you are free to increase the number of lights, we offer an optional universal mounting kit which allows you to attach our lights anywhere:
on your bike (handlebars, seat tube, luggage rack)
on an electric scooter (handlebars, head tube)
on a helmet with ventilation (rear or front)