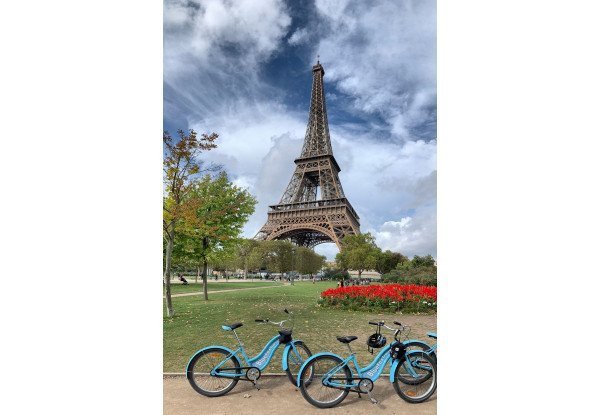 Paris Respire 2021 - Return on the annual day of urban mobility
Bicycles, electric scooters, pedestrians: The gentle invasion

On Sunday 19 September 2021, as it has for the past 7 years, Car Free Day returned one Sunday a year and invited us to swap our cars for non-polluting transport. This year, the event had a new name: "Paris Respire".

For this new edition, it took place from 11am to 6pm. Only buses, emergency vehicles and taxis were authorised to travel at 30 km/h in the capital.
Everyone was invited to leave their motorised vehicle behind and enjoy Paris in a different way, by public transport, by bike, on foot, on rollerblades or even on a scooter.
The good news is that Mairie de Paris has decided to extend the "Paris Respire" operation to the centre of the capital. Every first Sunday of the month, from 10am to 6pm, the centre of Paris will be entirely dedicated to walking, cycling, scootering or rollerblading and you will be able to enjoy the heart of the city to the full.
Overade is going to meet you
To mark the occasion, Overade organised a large free distribution of bicycle seat covers in three districts frequented by Parisian cyclists.
More than 870 covers were distributed and deposited in République, Saint-Michel and Rivoli, to the delight of cycling enthusiasts!
We were lucky enough to meet you on that day, and to be able to discuss the PLIXI FIT folding helmet, which aroused the curiosity of some.
The PLIXI FIT folding helmet is a major safety product for electric scooters

Like all motorised vehicles, electric scooters are the cause of road accidents. Yet few users take the precaution of wearing a helmet.
Aware of this obvious lack of safety, TIER, a global operator of electric scooter fleets, has joined forces with Overade, a French specialist in folding helmets.
The PLIXI FIT is an innovative product of French design which required more than a year of research and for which several patents have been registered. The PLIXI FIT folding helmet complies with the CE EN1078 standard for Europe and the CPSC standard for the USA, and guarantees the safety of users whether they are on bicycles, electric scooters or rollerblades.
To raise awareness among those who use electric scooters, Overade organised a ride on TIER e-scooters with influencers during the Paris Respire Day.
The aim? To inform about the presence of a helmet integrated in TIER electric scooters and to warn about the risk they take by riding without protection.
An open-air bicycle repair workshop on the Place de la Concorde
To celebrate Car Free Day, the Parisian network of participatory and supportive bicycle workshops (RéPAR) has set up shop on the Place de la Concorde and introduced individuals to self-repairing their bikes.
"A large number of volunteers will be running this workshop, which will enable cyclists of all levels to learn how to adjust a derailleur, remove a wheel, change the brake pads, adjust a play in the crankset, etc. Our aim is to make cyclists autonomous in their cycling and to reassure those who are put off by the technicalities," said Hugo Sesolis, the coordinator of the RéPAR network.
Vélo en grand, the first Ile-de-France festival dedicated to cycling

The department of Seine-et-Marne and Chlorobike have created the first bicycle festival in Île-de-France.
"Vélo en Grand" offers a natural exhibition and testing area for bikes and accessories on 450 hectares.
On the programme:
• 3 days of activities and introductions to cycling
• spectacular international competitions
• road bike and gravel sports events
• themed rides for all

A special opportunity to ride, discover and share good times with family and friends.
The Convergence Francilienne 2021

For its 13th edition, the Convergence Francilienne made its comeback on 19 September.
Several hundred people rode their bikes to show their love for cycling.
The aim was to show local politicians the need to transform cities to allow everyone to travel safely.
Tous en Selle ! 2021, the bicycle invites itself on your screen

The Grand Rex opened its doors to cycling and invited its enthusiasts to a 2-hour screening of several documentaries dedicated to cycling.

The event also provided an opportunity to test electric bikes on the Grand Rex test track and to remind the public of the mandatory safety measures to be applied when riding.