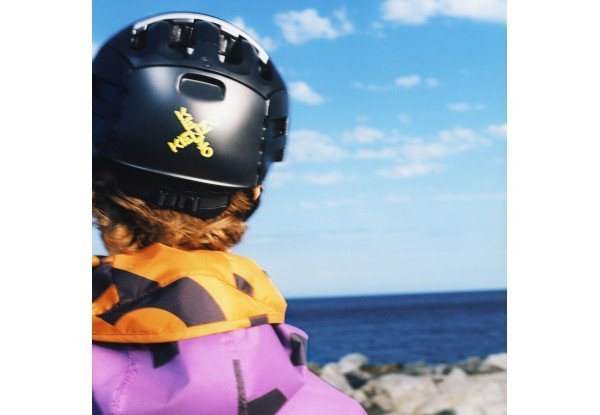 Securing soft mobility with style, Overade & KENZO have done it!
KENZO Sport invites urban mobility

Launched for the first time in February 2020, the KENZO Sport collection returns this winter with pieces that combine sportswear and chic. Your wardrobe will love it !

This new wardrobe takes on urban mobility. Most of the pieces proposed by KENZO are designed for urban cycling, but they will be just as effective if you travel on an electric scooter or a gyro-motorcycle.

The clothes are functional, based on movement and protection. The KENZO style and the new monogram print bring the "designer" touch that will certainly make you fall in love!

For this new edition, KENZO has teamed up with two big names in the soft mobility industry: Brompton for its foldable urban bikes and Overade, your specialist in the design of innovative safety products for new urban mobility.

KENZO has included our award-winning PLIXI FIT bicycle helmet in its 2021 sports collection. Specifically designed for the city, the PLIXI FIT helmet guarantees your safety with style. Innovative, it folds in 3 seconds once you have arrived at your destination without any compromise on comfort and safety (compliant with US & EU standards).
The visor and waterproof cover fit this urban helmet in a snap.
So you're ready to face the sun and rain with a fun, youthful touch. It's a great way to make life more enjoyable!

KENZO: a look back at a history that goes beyond fashion
In his 50 years of existence, Kenzo Takada, the father of the world-famous KENZO brand, has never stopped revolutionising the fashion industry.
Born in 1940 in Himeiji, Japan, Kenzo Takada has dedicated his life to fashion.
In 1964, Kenzo reached his first goal: Paris. Only six years later "Jungle Jap" was born in the prestigious Galerie Vivienne.
In 1980, the no less famous Place des Victoires welcomed the boutique, workshop and offices of the new KENZO brand.

Kenzo Takada became one of the pioneers of his generation. He will always remain a visionary, a creator of uninhibited, open-minded and diversified fashion. The cotton jersey pyjama suit, kimono-sleeved pullovers, corolla dresses and flower-printed jeans became iconic pieces.


A new page for KENZO

In 1993, the KENZO brand was acquired by the French luxury group LVMH. Kenzo Takada accompanied the new structure for six years, before handing over to Gilles Rosier and Roy Krejberg. Other artistic directors will continue the work of the master and will definitively establish KENZO as a world-renowned fashion brand.
In October 2020, Kenzo Takada died of COVID-19, leaving behind an incredible legacy that left his aficionados somewhat orphaned.


The KENZO x Overade collaboration is available as a limited edition while stocks last.

Didn't have time to order? Find below the PLIXI FIT folding helmet with the same features and accessories on our website.