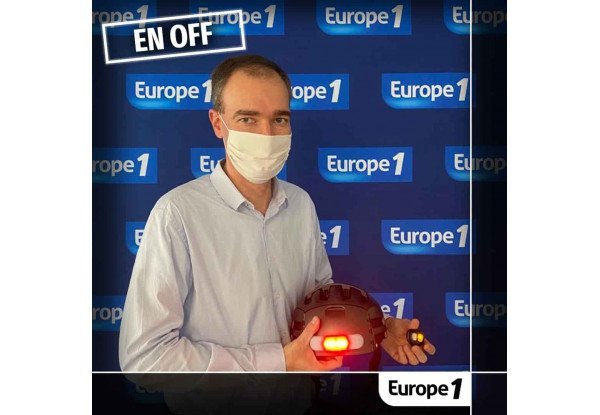 The folding bicycle helmet was invited on the show "La France bouge" on Europe 1
On 14 December 2021, Philippe Arrouart, founder of Overade, a company that designs safety equipment for soft mobility, was one of the guests on the morning programme "La France bouge" on Europe 1.

The programme, presented by Elisabeth Assayg and Emmanuel Duteil, is a tour of France of French citizens, communities and companies that are undertaking and innovating in all sectors of activity.

Sport was in the spotlight during the morning session of 14 December 2021 through four portraits of companies whose activities are based on sport in the broadest sense.



The boom of the bicycle and its accessories

Since the beginning of the health crisis, the bicycle has been on a roll. The French, like many Europeans, are turning to this "soft" means of transport in increasing numbers each year, which automatically leads to a need for practical and safe equipment.


Since 2009, when the Parisian Velib' was launched, Overade has been offering innovative and quality products mainly dedicated to urban mobility. The brand's flagship product is a foldable urban bicycle helmet for urban cyclists: the PLIXI FIT, the result of 4 years of research and development.



An innovative bicycle helmet that folds into three to protect you

It is well known that many cyclists are reluctant to wear a bicycle helmet because they do not know where to store it when they arrive at their destination.

Overade has found the solution with the PLIXI FIT folding helmet which folds in a snap as Philippe Arrouart demonstrated live on Europe 1.


"It has all the characteristics of a normal helmet. We have the same level of safety. It is stylish and suitable for urban use. The innovative aspect of the product comes from its ability to fold up. Once retracted, the PLIXI FIT helmet takes up very little space as its volume is divided by three. It can then be easily stored in a bag," describes Philippe Arrouart, founder of Overade.
A French designed bicycle helmet

The challenge was to make the most compact helmet possible while adapting to technical and industrial constraints. This market also generates many price constraints.

This is what the founder of Overade explains: "There are no longer any French manufacturers who make bicycle helmets for a long time. At the moment, relocating the production of our helmets to France would double the price of our bicycle helmets! That's why, for the time being, our production is made in Asia but 100% of the design and testing has always been done in our Paris office.



From bicycle helmet to electric scooter helmet

Originally designed for bicycles, the PLIXI FIT folding helmet is also perfectly suited to the "new world" of electric scooters, which are becoming a common mode of transport in large cities. New users" means "new distribution". The PLIXI FIT folding helmet can now be purchased in several specialist supermarkets (Nature & Découvertes, FNAC, Darty, etc.)

Thanks to these distribution channels and its website, Overade has seen its turnover increase considerably: "in 2020, we made +40% turnover and this year we will make +30%."



A growing range beyond the folding helmet

In addition to the PLIXI FIT folding helmet, Overade is expanding its range of products to make urban travel safer and more comfortable through soft mobility.

The BLINXI flashing light, which was also presented during the Europe 1 interview, was a clever addition to the PLIXI FIT folding bicycle helmet. BLINXI can be fitted to all urban bicycle helmets.
As Philippe Arrouart explains, "We have a patented removable magnetic attachment that we can fix on any helmet. You also have a remote control that we attach to the handlebars of the scooter or bike to indicate our direction.

"Indispensable" is one of the words that our customers often say when they mention the BLINXI helmet light, which is useful for both urban cyclists and electric scooter riders.
Overade's future urban mobility products

"We don't lack ideas. We'd like to bring out other products such as other lighting and an eco-designed, eco-responsible helmet. We recently launched a rental service for electric scooters. We are already working with the micro-mobility operator TIER, which is present in Paris, London and Berlin," explains the founder of Overade.



Follow Overade on your favourite social media to discover our range of products dedicated to the urban mobility market.

To watch the full interview on the "La France qui bouge" programme on Europe 1, just click on this link.