Article: Overade, winner at Eurobike 2023 with OxiTurn and OxiBrake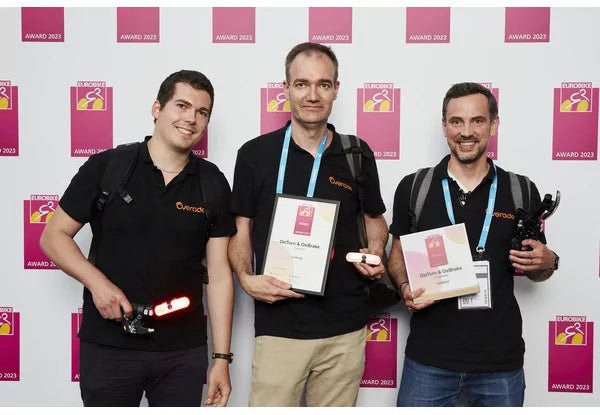 Overade, winner at Eurobike 2023 with OxiTurn and OxiBrake
Overade wins another award at the world's biggest bicycle show: Eurobike 2023!
Already a winner in 2018 for our LOXI waterproof bike bag, Overade is back on top of the podium with its two flagship products OxiTurn and OxiBrake, to be launched in the last quarter of 2022. The jury at Eurobike recognised their highly innovative features, which include the following functionalities:
OxiTurn: a red position light with directional indicators at the ends. These are activated by a remote control (OxiMote. OxiTurn + OxiMote are also sold together in the OxiTurn Starter pack at a discounted price).
OxiBrake: a braking detector that attaches to your brake lever and precisely captures all your decelerations. To take full advantage of this function, OxiBrake must be coupled to a lighting system (OxiLum or OxiTurn.). Two packs are available at a discounted price: OxiBrake Starter and OxiTurn Starter).
This new recognition rewards our commitment to creating highly innovative solutions to improve the safety of cyclists, electric scooter users and, more generally, all users of soft mobility.



Awarded at the Eurobike trade fair
Since 2007, the Eurobike Awards have been presented at the show of the same name. Quite simply, this is the world's biggest event dedicated to the bicycle and soft mobility industry. The prizes awarded The Eurobike Awards recognise products that stand out on the basis of the following main criteria:
Level of innovation

Quality of design

Originality

Commercial potential
9 product categories were honoured in 2023:
Bikes

Electric bikes

Light electric vehicles up to 45km/h

Small electric vehicles

Components

Accessories

Clothing and accessories

Digital solutions

Mobility solutions and infrastructure
As is the case every year, the products all underwent a rigorous selection process by a jury made up of specialists from sectors working in synergy with the world of soft mobility. Each of the products was marked according to a number of criteria in order to select the winner as impartially as possible. The criteria were as follows:
Innovation

Design

Functionality

Durability

Quality of design and choice of materials
OxiTurn bicycle lighting and OxiBrake brake sensor win awards at Eurokibe from a jury as diverse as ever
This year, the Awards have undergone a major change, with a new jury line-up that gives pride of place to diversity and interdisciplinarity.
The new jury is made up of experts from a variety of fields, bringing a wealth of perspectives and expertise. Bicycle industry specialists, product designers, engineers, road safety representatives and other qualified professionals were brought together to assess the candidate products.
Nils Holger Moormann: President of the jury for this year's Eurobike 2023 is an internationally renowned designer, known for his innovative and minimalist approach to furniture design. Born in Germany, he founded his eponymous company in 1982 and has since gained worldwide recognition for his unique creations. Thanks to his talent and unique vision of design, Nils Holger Moormann has made a significant contribution to the evolution of contemporary furniture. His legacy lives on in his timeless creations and enduring influence on the design scene.
Dr. Sissi Pärsch: A renowned journalist, recognised for her expertise in the field of media and communication. She has a solid academic background and extensive experience in the field of journalism. Thanks to her expertise and passion for journalism, Dr. Sissi Pärsch plays an essential role in disseminating relevant information and creating informed debate. Her work helps to nurture democracy by enabling citizens to access quality information and make informed decisions.
Miłosz Kędracki: During his student years, from 1992 to 1995, he worked as a bicycle mechanic at Cykleriet, a renowned workshop in Oslo, Norway. This workshop, far from being small, was a real experience for him. After graduating, Miłosz had the idea of founding a monthly magazine with his work colleagues.

In 2001, when the publisher retired, Miłosz seized the opportunity and bought the magazine from him. Thus began his journey as editor-in-chief, propelling bikeBoard to unexpected heights, exceeding all expectations, including his own.
Prof. Dr.-Ing. Petra Schäfer is a leading professor of transport planning at the Frankfurt University of Applied Sciences. She has a doctorate in civil engineering and extensive experience in the field of transport planning and management.

As a professor, Petra Schäfer plays a key role in the training and education of future professionals in the transport sector. She teaches the fundamental principles of transport planning, focusing on topics such as sustainable mobility, urban planning and transport policies.
Annette Blum is a passionate and skilled bike mechanic. Drawing on her experience as a "two-wheeler mechanic" (Zweiradmechanikerin), she has in-depth expertise in the repair, servicing and maintenance of bicycles.
Maximilian Leugner is a renowned expert in the safety of mechanical products, including bicycles, electric bicycles (Pedelec) and sports equipment. He is Laboratory Manager for Mechanical Products at TÜV Rheinland, an organisation renowned for its testing, inspection and certification services.
Markus Emmert is an active member of the Advisory Board (Beirat) of the federal association eMobilität e.V. in Germany. His role as a member of the board is to provide strategic advice and recommendations on issues relating to electric mobility.
Recognition of the relevance of our vision of innovation for urban cyclists
For the second time, Overade has won an award at the world's largest trade fair dedicated to cycling and soft mobility. This once again places Overade at the centre of companies whose sense of innovation and the relevance of their concepts is recognised.
Considered a benchmark, a Eurobike Award offers major visibility and reinforces both the credibility of the winning company and the product concerned. An award-winning product is one that will not disappoint its buyers and will give them complete satisfaction for a long time to come.
For us, receiving the Eurobike award is a major recognition of the work accomplished by our team of design engineers and designers. It testifies to our ability to develop products that meet the real needs of users of soft mobility.
This award (over)fuels our fierce desire to innovate on a daily basis so that we can always offer our customers the best safety solutions in the most aesthetic and effective design possible.
We want to celebrate this award with all cyclists and electric scooter users
To celebrate this recognition, we're running a special offer valid from 21 June to 16 July 2023 only on our online shop with the promo code EUROBIKE2023 (Valid from a purchase of €40).
(Re)discover our innovative Oxi lighting packs
The two products that won awards at Eurobike 2023 are part of the Oxi range, a series of lighting packs including :
The OxiBrake Starter pack: Lighting combined with a manual braking detector to immediately warn users following you of your deceleration.
The OxiTurn Starter pack: Helmet lighting with directional indicators that can be controlled via a handlebar remote control.
The OxiTurn Deluxe pack: Position lighting with remote-controlled indicators and a brake warning system that activates a powerful red light when braking.
Our OxiTurn Deluxe pack is the most complete. It makes every journey safer and more enjoyable..
With its remote-controlled indicators and automatic brake light, this revolutionary pack enables cyclists to communicate more effectively with other road users.
The directional indicators in the OxiTurn Deluxe pack are a real step forward in safety for cyclists. Using the remote control supplied, cyclists can easily signal their changes of direction, making their intentions more visible to motorists and other cyclists. This reduces the risk of accidents caused by unexpected manoeuvres, such as reaching out to turn.
What's more, the automatic brake sensor in the OxiTurn Deluxe pack is a major additional safety feature for cyclists. Slipped onto the brake lever, our brake sensor triggers the brake light as soon as the user applies the brakes. This brake light attracts the attention of other road users and tells them that the cyclist is slowing down. This drastically reduces the risk of rear-end collisions.
To find out more about our Oxi lighting packs and their unique features, consult our product sheet available on our website..
Spotlight on the Eurobike trade show. The global benchmark for the bicycle industry
The Eurobike trade fair is one of the most famous and influential events in the bicycle and urban mobility industry. Traditionally held in Friedrichshafen, a picturesque town on the shores of Lake Constance in Germany, the show underwent a historic change this year. For the first time in its history, Eurobike moved to the legendary city of Frankfurt.
This new location has given the show a boost, offering an exciting urban environment and a lively atmosphere for exhibitors and visitors alike.
From 21 to 25 June 2023, Eurobike brings together the key players in the industry, from major bicycle brands to suppliers, manufacturers, retailers, specialist media and cycling enthusiasts from all over the world. Participants have the opportunity to explore a wide range of products from classic bikes to electric bikes, accessories, components, clothing, innovative technologies and urban mobility solutions.
In addition to product displays, Eurobike offers an exciting programme of events. Live demonstrations allow visitors to test bikes and equipment on site. Cycling competitions, races and acrobatic shows provide exciting entertainment. Conferences, seminars and discussion forums address key industry topics such as technological innovation, sustainability, urban mobility, market trends and current challenges.
The Eurobike show is also a unique networking opportunity. Exhibitors have the chance to present their products and innovations to a qualified audience, interact with potential distributors, conclude commercial agreements and expand their professional network. Visitors, for their part, can establish contacts with industry experts, representatives of well-known brands and influential professionals.
To find out more, visit the Eurobike show website.
2023 - Oxi will make you more visible
The year 2022 is coming to an end... Overade wishes everyone a very happy 2023 filled with joy, health, but also mobility! On our side, 2022 has been a year rich in innovation with the arrival o...
Read more